An interview with Brad Moggridge, a proud Kamilaroi man who is part of a large extended family. He grew up in western Sydney and is currently a doctoral researcher at the University of Canberra, as well as the Indigenous Liaison Officer at the National Environmental Science Programme Threatened Species Recovery Hub.
Aboriginal and Torres Strait Islander listeners and readers are advised that the following interview and further reading may contain voices and images of people who have passed onto the Dreaming.
Brad is a leading Australian water practitioner and introduces himself and his mission in this 1-minute video, On the trail of the Aboriginal water dreamers. He is passionate about Indigenous knowledge and its connection to water. He explains that old stories about 'country' almost always have a connection to water as a central theme. This connection makes sense when you start to think about Australian being the driest continent on earth and supporting the oldest living cultures on the planet. Despite this, Brad suggests that First Nations Peoples are often not part of the equation regarding the management of environmental flows.
Outside of this, one of Brad's other claims to fame is his long-term involvement in the National Aboriginal and Torres Strait Islander Golf Championship, a tournament he won in 1987. As part of the winning team, Brad was sponsored by Charlie Perkins to take part in a competition in Hawaii. Charles was an Indigenous rights activist most known for leading the Freedom Ride through towns in coastal western New South Wales bringing the discrimination experienced by First Nations citizens in these areas to national attention.
Interview Topics
The diversity of Indigenous water knowledge
The meeting point between traditional and scientific knowledge for water management
Developing credible evidence to strengthen Indigenous knowledge systems
Opportunities for bringing Aboriginal peoples into the research process
The diversity of Indigenous water knowledge
In the interview, Brad refers to a broad range of ways Indigenous water may be defined
"Mobs all over the country still talk about water places, dream about water places, have law about water places and teach the next generation about water places. Water is a key part of who we are"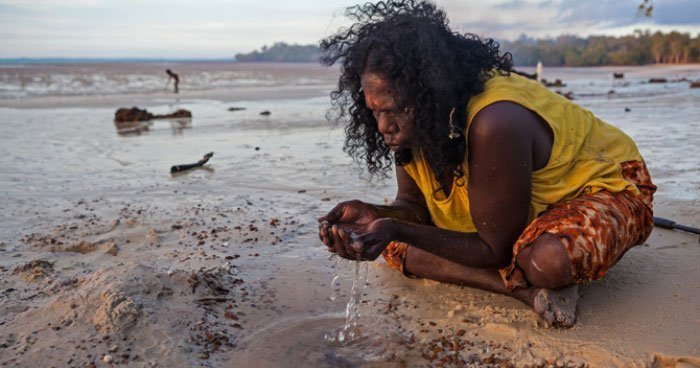 For example: The meeting point of traditional and scientific knowledge for water management
Brad's presentation at the 2011 International River Symposium on the cultural value of water, based on his work with the CSIRO mapped out a conceptual framework, where traditional ecological knowledge can bridge considerable gaps in western scientific knowledge. However, he suggests that this is constrained by the differences in these knowledge systems and how both tangible and intangible knowledge needs to be translated into the quantitative flow value.
He suggests that Indigenous Australians are rarely engaged when environmental flows are determined. This 6-minute video, 'Our water, our country' is a resource package produced by the NSW Department of Primary Industries, which at the time ran the only Aboriginal water unit in the country. It was aimed at addressing this by increasing First Nations Peoples understanding of the water-sharing process in eastern Australia and how they can be involved. It was produced during Brad's time with the unit.
To illustrate this, Brad referred to an American Geophysical Union report highlighting the increasing stress placed on the world's large groundwater reservoirs. In the interview, he also referred to an anthropologist, Donald Thomson, who on an expedition to Bindibu country, learned about traditional ecological knowledge of permanent waterholes in the Great Sandy Desert inscribed in stylised maps on spear throwers. This knowledge enabled detailed information about water resources in these arid regions to be communicated across generations through oral traditions. The spear-thrower referred to by Brad in the interview is part of a collection at the National Gallery of Victoria. A book chapter, 'The use and abuse of Aboriginal ecological knowledge', outlines how this knowledge was developed through spatial and temporal observations made over thousands of years and is of increasing importance to managing problems of water scarcity in the region
Chapter 6 of the Australian Human Rights Commission 2008 Native Title Report, 'Indigenous Peoples and water' outlines some of the challenges associated with Indigenous Water Rights in Australia associated with the separation of Land and Water Rights in Australia. It provides a solid grounding in the issues of Indigenous Water Management such as approaches to accommodating cultural flows and protecting this type of essential cultural knowledge.
Developing credible evidence to strengthen the role of Indigenous knowledge systems
In the interview, Brad describes a disconnect between scientific knowledge and traditional ecological knowledge that is very challenging to resolve but essential to strengthening the role of Indigenous knowledge systems in water management.
One way this is being addressed is through Brad's published scientific research:·
Another example where traditional Indigenous Knowledge Systems have been documented in a way that meets western scientific knowledge in the Indigenous seasonal calendar and fire ecology resources, produced in collaboration between different language groups in northern Australia and the CSIRO.
Opportunities for bringing First Nations Peoples into the research process
In the interview, Brad was asked to outline some best practice models of Indigenous water management that he was aware of. He outlined the:
The significance of this recognition in Victoria is described in a radio interview about the Victorian Aboriginal water program with Rene Woods, chair of the Murray Lower Darling Rivers Indigenous Nations on the WIRE Community and Indigenous Radio. The podcast Victoria recognises Indigenous water rights outlines how this improves Aboriginal engagement with water planning in the state.
The role of the Commonwealth Environmental Water Holder is also discussed in light of this plan in terms of the scope for the potential for a Victorian Aboriginal Water Holder to manage cultural flow allocations for Aboriginal peoples. This is often met with a response that cultural water values are likely to only be accessed in a non-direct way through dual outcomes, despite environmental outcomes in many cases being different to cultural outcomes for water.
Related Articles
This interview and related content was originally part of the Kini Interview Series. Kini is a retired brand of the AWP and IWCAN.